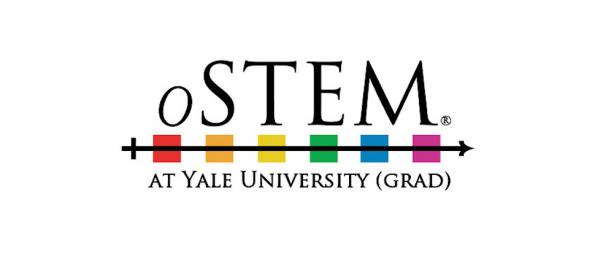 oSTEM.grad at Yale is the graduate chapter of Out in Science, Technology, Engineering, and Mathematics (oSTEM), a national society dedicated to educating and fostering leadership and community for LGBTQ+ individuals in the STEM fields.
Mission
Founded in 2015, oSTEM.grad at Yale seeks to serve the needs of the diverse community of scientists on campus. Through community building events, educational initiatives, and mentorship connections, oSTEM.grad hopes to advocate for and address the needs of LGBTQ+ students, staff, and faculty in the STEM fields at Yale. 
Leadership
Mac Crite (they/them)
Mac is the co-Founder of oSTEM.grad and a 5th year PhD student in Daniel Dimaio's lab in the Department of Genetics and Microbiology. They are currently investigating cellular factors necessary for Human Papillomavirus (HPV) entry. Outside of lab, in their abundant free time, Mac enjoys attending far too many concerts, being a pretentious vinyl snob, and actively not reading papers.
Stephen Gaughran (he/him)
Stephen is a 5th year PhD student studying evolutionary genetics with Jeffrey Powell in the Department of Ecology and Evolutionary Biology. His research looks at how we can detect the effects of natural selection in genomic data, and how that helps us to understand adaptive evolution in mammals. When not comparing DNA sequences, Stephen can often be found reading only the first half of a book and letting his cup of coffee get cold.
Emma Tung Corcoran (she/they)
Emma is a 4th year PhD student in the Department of Molecular, Cellular, and Developmental Biology. Emma's research in the Jacob lab investigates how epigenetic mechanisms regulate genome stability in the plant system Arabidopsis thaliana.  When she's not slowly killing plants, Emma plays with her two cats, makes art, does puzzles, and reads a lot.
Julie Cheung (she/her)
Julie is a 3rd year PhD student in Nik Joshi's lab in the Department of Immunobiology. She is studying how tumor cells evade the immune system, and finding new ways to model cancer. In her spare time, she enjoys playing sports and is a player for Yale's club basketball team. Interestingly, she also takes deep pleasure in puzzling. She can't stay in one place for too long, which is why she has so many different interests.
Celena Gwin (she/they)
Celena is a 3rd year PhD student in the Microbiology department. Her work in the Rego Lab focuses on understanding how mycobacteria grow and divide asymmetrically. In their free time, Celena enjoys crochet, horror movies, and reading books for the oSTEM book club!
Alumni
Christopher Lim (he/him)
Chris co-founded oSTEM.grad and served as co-President for four years before graduating with his PhD in Molecular Biophysics & Biochemistry in 2019. In Yong Xiong's lab, he primarily used structural techniques such as X-ray crystallography to understand how HIV proteins interact with human ones to benefit the virus. He is currently a postdoc in Andreas Martin's lab at UC Berkeley.