Meetings
Interested in meeting other LGBTQ+ graduate students and post-docs in the sciences? Join us for one of our oSTEM-sponsored happy hours! Have a great idea for an initiative that you want to see on campus? Come to one of our general interest meetings where we discuss what's new with our latest projects. oSTEM.grad meets approximately once a month. 
Join our mailing list to hear about all our events!
You Are Welcome Here @ Yale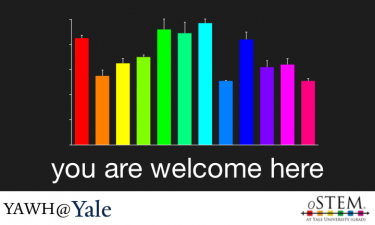 The You Are Welcome Here (YAWH) campaign aims to promote inclusion in the STEM fields with a simple message: you belong here at Yale. Originally started at MIT in 2010, we revived and personalized the campaign in 2017 and hope to spread it to other institutions in the future.
In collaboration with the graphic design work of Matt Warren Bruinooge and oSTEM at Brown University, we created a new YAWH design in 2020.
Interested in contributing to YAWH? Want to bring the campaign to your department or campus? Email ostem.grad@gmail.com to learn more! 
Mentoring
Joint meetings with our undergraduate oSTEM chaper and a tiered mentoring program build relationships across every level of our diverse community. 
Lunches with queer professors at Yale allow students a chance to speak candidly about their experiences being queer in STEM and gain valuable knowledge and mentorship.

Queer in STEM Symposium
In 2019, oSTEM.grad organized the first Queer in STEM Symposium at Yale. We invited several authors of the 2013 and 2016 Queer in STEM surveys as keynote speakers to share the results of their studies.
Additionally, the symposium featured talks from queer researchers here at Yale.
Head over to the Gallery to see more photos!
Social Events
As a graduate student-run organization, we hold many events throughout the year to socialize and build community. Past social events include potlucks, beach trips, happy hours, and more!